Posted by
wendy

| Posted in blog, travel | Posted on 15-12-2007
One thing I always wanted to do is blog about our trip last year to Prague/Paris/Morocco. I meant to do it and I can't never seem find time to do it.
Today, I made a resolution that I will do it!
With any travel blog I write, this is going to be a long one. So grab a cup of hot coco and enjoy.
The Plan
My friend Stacy and I have always wanted to do a trip together. We talked about going to Paris, and few month later I promptly completely forgot that conversation.
Stacy is different, she's a planner! She reminded me on the awesome European vacation that we talked about. She drove the vacation really.
First it was me, her, and the Mr. but somehow my brother got added in the mix. And then the brother invited his friend, Joe D. Anyway it was all very very complicated. Since none of us have met Joe D (other than the brother) before it was going to be an interesting experience.
We decided to do a 3 country tour, Czech Republic (Prague), France (Paris and Dijon), and Morocco ( Marrakesh). We were super excited!
The Trip
Destination 1 : Prague
We landed in Heathrow airport and I bid my goodbye to the Mr. and advised him to not to visit any painted ladies.
You see, the Mr decided to take this time to go home to visit his family and see his friends and meet up with the rest of us in Morocco.
It's the first time for a full year that I have not been to Ireland since the Mr and I got together. I felt bad for boycotting Ireland, but I got to see the rest of the world!
Ah, lots of firsts in this trip!
Stacy, I, Joe D, and the brother took a limo to Gatwick to go to Prague. We asked the Limo driver to take us to a chipper [sic – I really meant to say chippy, thanks Paul the resident English Expert] . (When in Rome!)
So he took us to this nice chipper ran by Chinese people! I had kidney pie (from a package, I picked wrong) while rest of the guys have assorted fried goodness.
Everyone looked good after a long flight!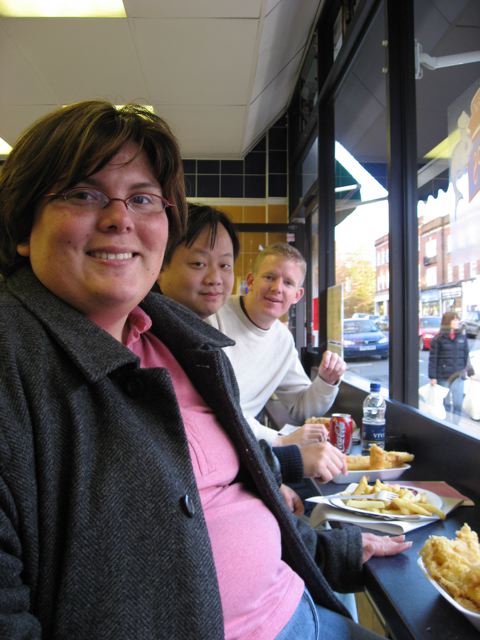 Then is off to Prague we go!
We landed quite late in Prague and had no clue where to go. We ended up in the square where the famous clock is. It was around 9:00pm or so, and we saw all these people gathering around. We had no clue why they were there. So we also waited with the crowed, and nothing happened. We were confused.
The next day, our guide told us that the clock does a little show thing every hour on the hour for centuries. But people who lived around there started to complain. So it is turned off after a certain time. I don't feel so bad, because all those other tourists didn't know either!
The guide was quite good and took us all over town. She was really nice to us, and explained a lot of the history of Prague. I got super excited when she took us to see the Golem. I had no idea the Golem lived in Prague!
The guide seem surprised that I was excited to see the Golem. I didn't have the heart to tell her I learn about Golem from a Simpson's episode and was excited to see the real thing. Maybe she thought I was confused between Golem and Golum (from Lord of the Rings…)
The next day, we all went to Prague Castle and the brother and I climbed this tower. Let me tell you, it was an interesting experience. I should have heeded this sign.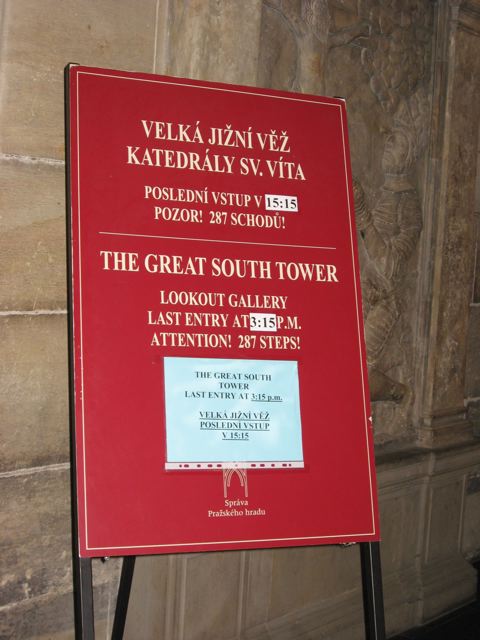 As we were going up, people coming down were giving us encouragements. I am glad we didn't give up. On top the tower, we saw an angry teenager, mad at her parents for not telling her about the 287 steps. It made me laugh. What a mean trick to play on your kids!
It was all worth it. The view was fantastic!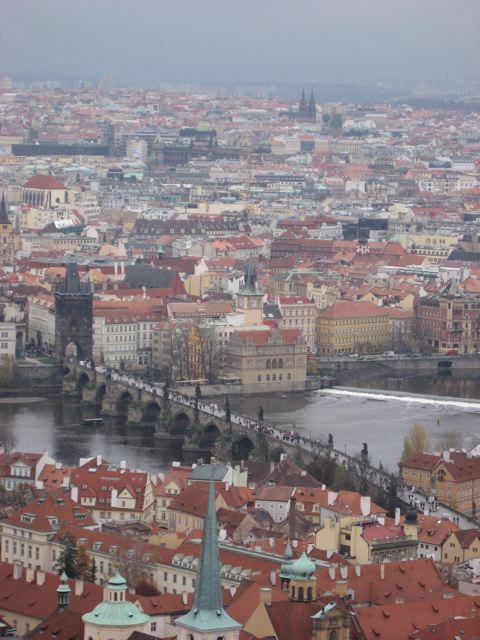 Prague will always hold a special place in my heart. It is the first country in "The Continent" I ever visited.
You would think I go to the Continent a lot since the Mr is from Europe. But the closest that I have gotten is Denmark. And as the Mr. gleefully pointed out, Denmark is actually made of many tiny little islands and only connected to mainland via Jutland. And we didn't go to Jutland (at least not that I can remember, remind me if I did Amber!)
In addition, it's the first time I have ever been inside a synagogue. It's very different than any religious places I have ever seen.
I would totally go back to Prague again.
All right. that's it for today. I'll talk about Paris and Morocco some other day.