Posted by
wendy

| Posted in blog | Posted on 12-02-2008
Over the weekend, we went on a search for a good Irish Breakfast. We found this really nice place (on the internet of course!) in Haight-Ashbury, called Martin Mack's. We were going to get up at 9:00am and drive into the city for a bit of breakfast. But we didn't get up until 10:00am. We were a bit worried by the time we got there they would stop serving breakfast. We end up getting there around noon (spent30 min trying to find parking!!) saw the sign, branch from 10:00am to 3:00pm! YAY!
Here's a picture of my delicious breakfast.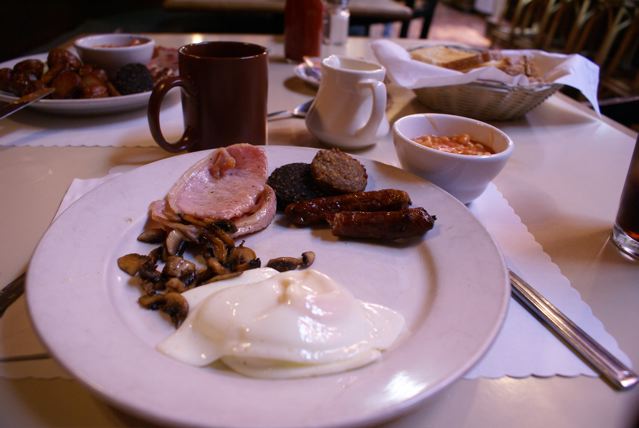 I was so excited at the thought of having black pudding, I took a bit of the sausage before I had a chance to take a photo. The breakfast comes with potatoes (of course) but I opted in for mushrooms. The sausages weren't the best, but the black and white pudding was delicious. I definitely would go back again.
As we were planning to go to breakfast, we decided to do a mini road trip to check out some interesting graves in SF area.
We end up visiting a grave for clowns.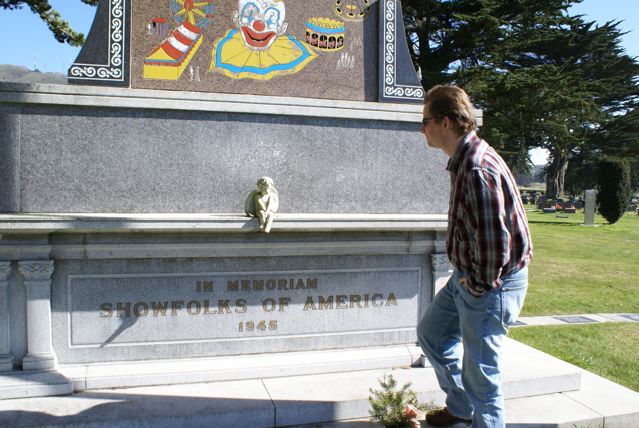 The Mr. paying tribute to the fallen clowns. (Personally, I don't like clowns, they give me the creeps.)
But the highlight of this trip was seeing Wyatt Earp's grave. Personally I hate westerns. But couldn't resist this one. It's Wyatt Earp, even if you hate westerns you would know who he is.
Anyway, he's buried in a Jewish cemetery in Colma. Every site we visited just said where he is at but never gave an location of where he is in the cemetery. We drove around the cemetery seem like for ages trying to find him. Thanks to my trusty Blackberry, I found a blog that had the exact location.
He is in plot D, section 2, lot 12, grave 2. Walk up to the main road from the office and pass the rotary, it is down the sixth pathway on the right. When you see the mausoleum for C. Meyer this is the turn you take. Go down this path past the intersecting sidewalk. It will be on your left in this lot, in the third row back.
He's at the Hills of Eternity Memorial Park. The address is 1301 El Camino Real, Colma.
I always assumed that he would be somewhere in Arizona or Nevada. According to some of the site I ready, he's at a Jewish cemetery because his wife is Jewish. He did this so he can be with his wife and his wife can be with her family.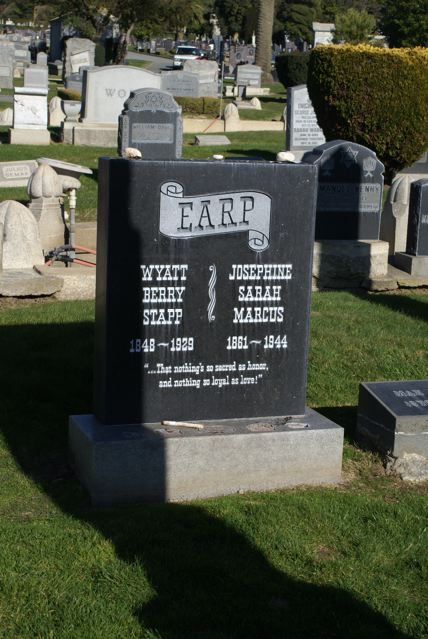 The grave site itself is not exciting. Mr. read somewhere that the original one was stolen. People put poker chips and money on his grave. I never knew Earp was such a gambler.
Levi Strauss is suppose to be in the same cemetery, but I was pretty tired by then so we decided to just head home.
Over all a pretty fun day!